Services: CNC milling, Sanding, Bead Blasting, Color Anodizing, Laser Etching
Material: AL-6082 aluminum
Lead Time: 20 days
Quantity: 500 units per month
About The Product
The VAPE e-cigarette is an elegant and unique smokeless device for both men and women. It took two years of development to create not only the ideal design but also a proprietary smoking blend that comes in several flavors, is nicotine-free, satisfying and available nowhere else.
About The Client
ConsumerNext is a product development company based in Germany and the United States. ConsumerNext specializes in developing products that share an emphasis on style, high-quality, ease-of-use and a pleasurable user experience. Their products are branded with the name Jimmy'z and can be found in 10 countries around the world.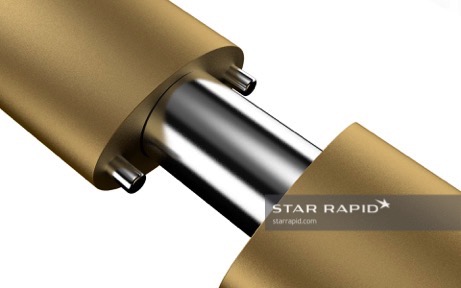 About The Project
ConsumerNext recently asked us to make a CNC milled aluminum case for a new kind of electronic cigarette. They needed a case in two different sizes, for both men and women, and in each size they wanted to try different anodized colors to test the market. To achieve this, we made some small batch runs in light gold, dark blue, light rose and warm grey.
The Challenges
There were two particular challenges that arose while making this e-cigarette case.
The first challenge concerned the profile of the case, which is generally oval in cross-section but which also reduces in diameter along its length. This makes a complex curvature that another manufacturer had tried, and failed, to make correctly. We were able to produce this shape using our HAAS 5-axis CNC mill. Our machinist carefully tailored the cutting program and selected the correct choice of cutting tool to extract the maximum performance from our advanced CNC machine, resulting in a beautifully finished profile.
The second challenge was that both halves of the case needed to come together and meet with a seamless, smooth fit. To do this, we added two magnetic, chromed steel alignment pins. These hold the two halves together firmly and in the right orientation, and help to make a leak-proof seal for the internal smoke cartridge.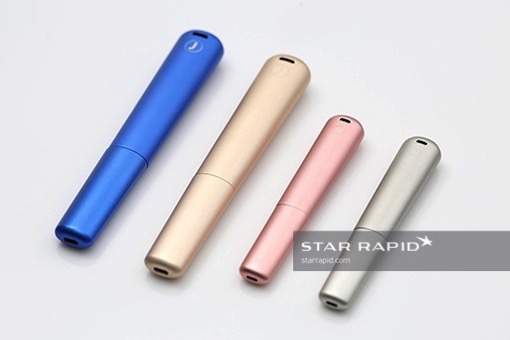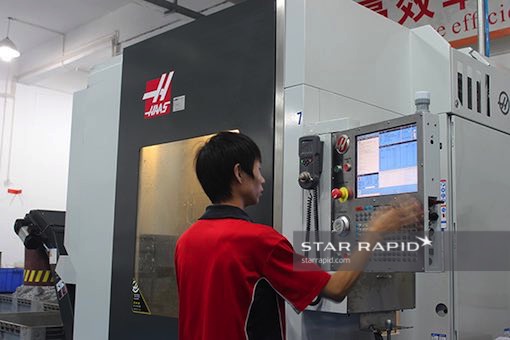 How The Parts Were Made
The Milled Case
ConsumerNext requested we use the aluminum material AL-6082. This is a relatively new aluminum alloy that's superior to 6061 for strength and corrosion resistance. It machines very well and produces an excellent surface finish when the right cutting tools are used.
Uploading CAD File
Once we had the material and all preparations were in place, the 3D CAD drawing files were loaded into our DELCAM Powermill software. Our skilled programmers used the software to generate the 3D toolpaths using the CAD design file. We then output these tool paths as a set of instructions which are written in a special programming language called G-code. G-code tells the machine every motion necessary to make the finished part and it's up to our machinist to optimize the code via our software and select the most appropriate cutting tools to ensure it produces the best quality, speed and accuracy.
Bead Blasting The Surface
After CNC milling, the aluminum part was bead-blasted to create a uniform matte surface finish. To hold the parts securely, custom-made rods were placed inside the cavity of the parts before they underwent bead blasting.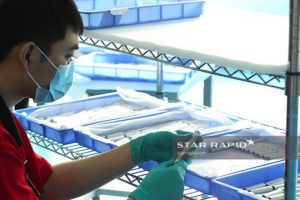 Anodizing
We can apply many kinds of surface textures and finishes to a part. ConsumerNext decided on anodizing. Anodizing is ideal for improving corrosion resistance, durability and cosmetic appearance on aluminum parts. As with bead blasting, it's also necessary to hold the parts in a fixture while they're being submerged in the anodizing bath. We made additional fixtures to hold multiple parts on a single tree, while ensuring that no parts touch one another.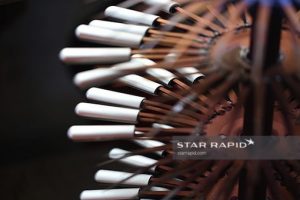 Adding Fixtures To Hold The Prototype
Fixtures like these are so often the unsung heroes of many specialty projects. In this case, they help the operator to hold and rotate the part safely without blocking any essential surface features.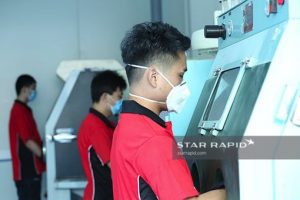 Laser Marking
After anodizing, a laser was used to create the distinctive circle "J" logo. We calibrated the laser to precisely vaporise the anodised surface, altering the surface chemistry at the molecular level which makes a permanent, non-dyed mark that is perfectly smooth to the touch.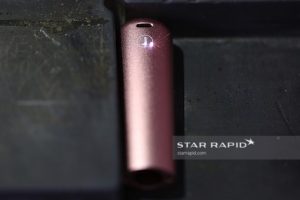 Inspection
At KBTooling Rapid we also applied our own in-house metrology tests to confirm all material. In this video, you can see how we verify the raw material, an essential part of process control and ultimately customer satisfaction. Our quality control team provided final checks with a range of inspection equipment before shipping the part.
The Finished Product
The final product has a refined simplicity that might give the consumer the impression that it's easy to make. Projects like these, however, actually require a subtle appreciation for the qualities of the raw material and the careful calibration of machine tools to achieve such an elegant, effortless result.
If you enjoyed reading this learn about how we made this innovative new coffee brewing system. Are you ready to start your next project? Send your CAD drawing file and our engineers will provide you with a free quote and project review.